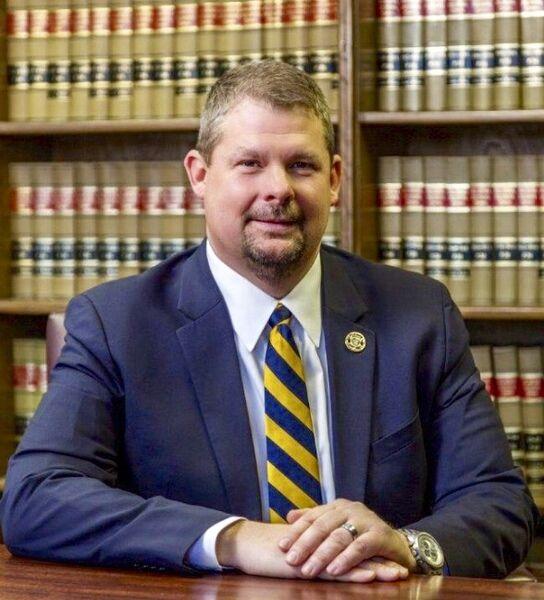 OKLAHOMA – The Oklahoma District Attorneys Association has chosen District 27 District Attorney Jack Thorp as Oklahoma's District Attorney of the Year. Thorp was presented the David L. Moss Memorial Award for Outstanding District Attorney by Oklahoma District Attorney Association President Angela Marsee, district attorney for District 2 in a small ceremony attended by Oklahoma's district attorneys, the District Attorneys Council and Thorp's wife, Joy Thorp, senior deputy attorney general.
Thorp is a 21-year career prosecutor who has served as District 27 district attorney for the last three years. He grew up in Catoosa and served in the U.S. Navy from 1988-1992. Following his honorable discharge from the Navy, Thorp attended and graduated with a Bachelor of Science, Magna Cum Laude, from the University of the Ozarks in Clarksville, Arkansas. Following his undergraduate graduation, Thorp attended the University of Arkansas, Fayetteville, where he received his Juris Doctor degree in 1999.
Thorp has served as a deputy prosecuting attorney in the Fifth District in Arkansas, as well as an assistant district attorney for Districts 14, 13, and 10 in Oklahoma. As an assistant district attorney in Tulsa County, Thorp was chosen Top Gun Prosecutor for 2006, 2008, 2009 and 2010. On Jan. 2, 2011, Thorp was chosen first assistant district attorney for District 27. On Oct. 2, 2017, Thorp was appointed district attorney for District 27 by the governor. Thorp and his wife Joy reside in Broken Arrow, Wagoner County.
"I am greatly honored to receive this award. I have been blessed to serve as a prosecutor and minister of justice for my entire 21-year legal career. Every morning I wake up and am privileged to fight for the rights of victims and seek justice in the courts of Adair, Cherokee, Sequoyah and Wagoner counties. District 27 is very blessed to have amazing prosecutors and staff who work every day to make our communities safer."
The Davis L. Moss Memorial Award for Outstanding District Attorney is named for legendary Tulsa County District Attorney David L. Moss who tragically died in 1995. It is awarded annually by the Oklahoma District Attorneys Association to recognize the state's most outstanding district attorney.
Related posts