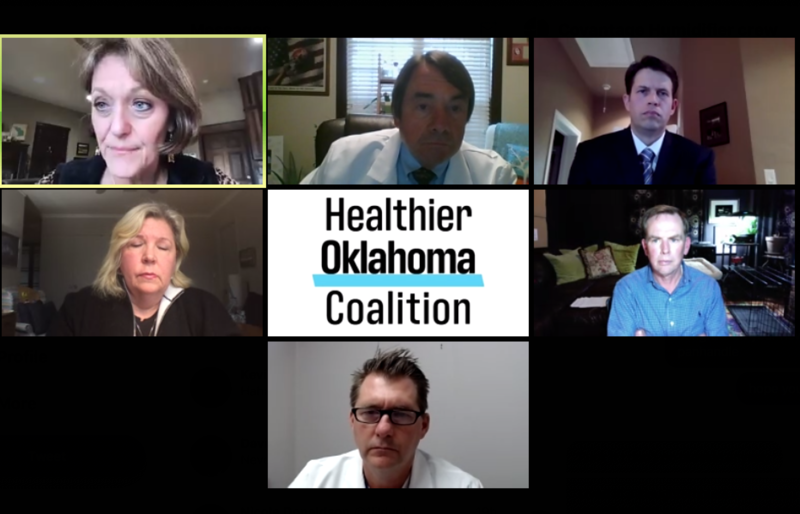 LAWTON, Okla. – Physicians, nurses and health care groups in Oklahoma are expressing concern over the state department of health's recent guidance to allow health care workers infected with COVID-19 but asymptomatic to remain on the job rather than quarantine.
"To me, that seems like the most insane thing," said Dr. Scott Michener, chief medical officer at Comanche County Memorial Hospital in Lawton, on a videoconference with reporters organized by the Healthier Oklahoma Coalition on Tuesday.
"You won't mandate a mask, but you're going to let COVID-positive health care providers work? I mean, that seems like the logic is backwards," Michener said.
"That should be a last resort," said Dr. George Monks, president of the Oklahoma State Medical Association. "There's some other mitigation efforts that we can do before we go to the last resort."
Monks, who has long called for Gov. Kevin Stitt to implement a mask mandate, said such a mandatory mask policy at the state level could be a mitigation step used to help reduce transmission and thus take pressure off staffing without requiring COVID-positive providers to work.
"It is a mixed message to the public to allow asymptomatic COVID-positive nurses, physicians and other health care workers to work," said Jane Nelson, CEO of the Oklahoma Nurses Association. "They need to be home quarantining like the rest of the public. I'm not so sure how health care employers are able to separate those asymptomatic COVID-positive workers from those that aren't COVID-positive. It makes it very difficult."
Nelson's group sent a letter to the governor on Nov. 9 requesting mitigation efforts including a statewide mask mandate and recommending other steps to take regarding staffing, but, as of Tuesday, she said she had received no response. In a statement, Nelson called the move to allow COVID-positive nurses to work "reckless."
In a separate videoconference with reporters earlier Tuesday, Oklahoma State Department of Health Deputy Commissioner Travis Kirkpatrick said the guidance was only meant to be used in absolute dire straits.
"This is only in emergencies where you have critical staffing issues and decisions that have to be made to continue the ongoing operations of a facility," Kirkpatrick said. "In those cases and only those cases, we are telling people their options, which includes this, that they can use these asymptomatic staff."
Asked if the state would take corresponding state-level mitigation efforts alongside the guidance on asymptomatic COVID-positive staff to continue working, OSDH Commissioner Lance Frye said the department was "trying to see how we can help them from the state level to just give them whatever support they need in order to help when we know that staffing is difficult at this time," but did not provide specific mitigation strategies.
OSDH said their guidance is based on other states' practices during pandemic staffing shortages and guidance from the federal Centers for Disease Control and Prevention (CDC).
Related posts